Um zu feiern, dass «II: The Grand Procession» endlich weltweit erhältlich ist, hat die Band ein brandneues Lyric Video zum Titeltrack des Albums veröffentlicht, welches hier zu sehen ist:
"Der Titeltrack spiegelt das Gesamtkonzept des Albums wider - der Tod und der Umgang mit ihm - und fasst die rohen Emotionen und die Essenz der lyrischen Themen perfekt zusammen. Dieses Album ist nicht nur eine Ode an meinen Vater, sondern an all die Familien, Freunde und geliebten Menschen, die wir als Band, und ihr als Hörer, im Laufe der Jahre verloren haben", sagt Sänger Tyler Smith.
BEGAT THE NEPHILIM wurden 2012 gegründet und haben eine intensive und unverkennbare Laufbahn hingelegt, in der sie die Bühne mit bekannten Acts wie DEICIDE, KATAKLYSM, SOULFLY, SUICIDE SILENCE, NAPALM DEATH, SUFFOCATION, MORBID ANGEL oder vielen anderen teilten und an namhaften Touren/Festivals in den USA, wie Summer Slaughter und dem New England Metal and Hardcore Festival, teilnahmen. Mit ihrem drückenden und technisch beeindruckenden Sound, sowie ihren frenetischen und chaotischen Live-Auftritten, hat die Band bereits vielerorts einen bleibenden Eindruck hinterlassen können und sich einen renommierten Namen in der Szene erspielt.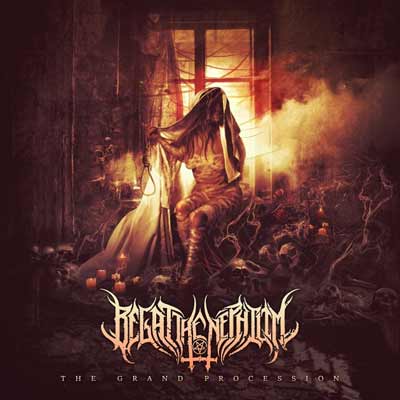 Tracklist «II: The Grand Procession»:
01. Panegyric
02. Pygmalionism
03. Paterfamilias
04. Threnody - Death of Spring
05. The Grand Procession
06. Ossuary
07. Exanguinated
08. Dirge
09. Paupers Grave
10. The Grand Procession Part ll
11. Leucomalachite Green