«Lovers' Train» dient als Vorspeise für das bevorstehende neue Studioalbum der Band, das Anfang 2022 über Frontiers Music Srl erscheinen soll. Die Single könnt Ihr hier anhören:
Girish sagt: "Wir sind eine Hardrock/Melodic Rock/Heavy Metal-Band. Wir machen gerne die Art von Musik, mit der wir aufgewachsen sind und die sich um die 80er dreht aber auf unsere Art. Könnte in Form eines progressiven Songs oder vielleicht eines Riffs sein, das ein bisschen "Indien" enthält. Alles in allem stellen wir uns das als eine Achterbahnfahrt vor. Auf die Fresse-Songs bis hin zu wunderschönen Balladen. Wir fühlen, egal wie sehr wir uns der Kunst verschrieben haben, wir sollten uns dennoch nicht davon abhalten, mehr zu erforschen, ohne jedoch die Essenz dessen zu verlieren, was wir wirklich lieben."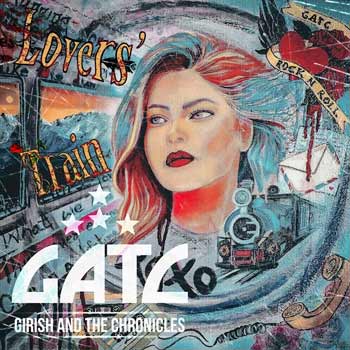 GATC haben zwei gefeierte Alben veröffentlicht, ihr Debüt «Back On Earth» (Universal Music India) und die neuere 2020er Veröffentlichung «Rock The Highway» (Lions Pride Music).
Angefangen in der Stadt Gangtok in Sikkim, Indien, und jetzt in Bengaluru in Karnataka beheimatet, sind GATC bekannt für ihre hochfliegenden, kraftvollen Vocals, beissenden Gitarren, donnernden Bässe und hämmernden Schlagzeug, die dem authentischen Heavy Metal der 80er treu bleiben. Mit Hardrock-Sound, mit dem sie aufgewachsen sind. Viele Rock-Outlets führten «Rock the Highway» von GATC auf ihre Liste der Top-Rock/Metal-Alben des Jahres 2020 und die Gruppe hat sich eine Kult-Anhängerschaft bei Hair Metal- und Hardrock-Liebhabern der 80er und 90er Jahre erarbeitet.
GATC ist auch in der indischen Rockszene für elektrisierende Live-Shows bekannt und tourte landesweit und darüber hinaus. Die Gruppe hat hat für Bands eröffnet, die von den amerikanischen Alt-Rockern Hoobastank über die finnischen Rocker Poets of the Fall bis hin zu den deutschen Thrashern Destruction reichen. Darüber hinaus war die Band regelmässig Teil verschiedener führender Musikfestivals in Indien. Sie tourten kürzlich auch mit/unterstützten Ex-Lamb Of God-Schlagzeuger Chris Adler während seiner Auftritte in Indien. Sänger Girish Pradhan ist auch Teil der internationalen Metal-Truppe Firstborne, die von Chris Adler, James Lomenzo und Hugh B. Myrone geleitet wird. Mit seinen anderen Nebenprojekten tourte er in der Vergangenheit auch durch Grossbritannien, Frankreich, Spanien, Portugal und andere Gebiete. In ihrem elfjährigen Bestehen wurde ihnen von vielen Fans zugeschrieben, dass sie die klassische Hardrock-Kultur nach Indien zurück gebracht haben, und sind eine Inspiration für viele neue und aufstrebende Bands in der Szene.
GIRISH AND THE CHRONICLES könnt Ihr live am UrRock-Festival in Sarnen (OW) anschauen.