Darüber hinaus hat die Band die Veröffentlichung einer neuen EP angekündigt, um die Fans bei Laune zu halten, während sie auf neues Material warten.
Seht hier das Video zum Titeltrack an:
Die «Borderline»-EP enthält insgesamt vier Tracks: den schnellen Titeltrack, eine Akustik-Version der Single «The Metal Monster» mit Michele Guaitoli (Visions Of Atlantis, Temperance) als Gastsänger, eine neue Version von «Mistress Of Disaster» mit dem neuen Gitarristen der Band, Edoardo Taddei, und eine Live-Version ihres Covers von Judas Priests Klassiker «Leather Rebel».
ScreamMachine stammen aus Rom, Italien und sollen eine treibende Heavy Metal Macht sein, so das Label. Bewaffnet und gefährlich mit geschmolzenen Metal-Riffs ist das Quintett bereit, die Welt mit ihrem lodernden Sound, der von Titanen wie Judas Priest, Metallica, Savatage und Accept inspiriert ist, im Sturm zu erobern. Auch wenn die Jungs von ScreaMachine in den legendären Metal-Sound der 80er verliebt sind, leben sie nicht in der Vergangenheit. Ihr Ziel ist es, einen aggressiven und traditionellen Heavy Metal Sound zu liefern, der mit einer modernen Produktion und modernem Songwriting vermischt wird.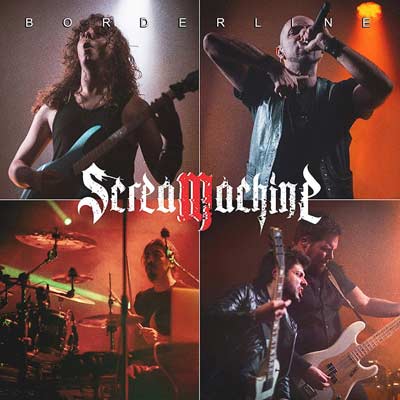 Die Musiker von ScreaMachine sind keine Unbekannten in der Metal-Szene, wobei die meisten Mitglieder von angesehenen italienischen Acts wie Stormlord, Kaledon und Lunarsea stammen, die alle seit den 90er Jahren mit umfangreichen Diskographien und Hunderten von Gigs auf dem Buckel haben.
Ihr selbstbetiteltes Debüt-Album wurde durch Gastauftritte von Steve Di Giorgio (Testament, Death, Iced Earth, Spirits Of Fire et cetera), Herbie Langhans (Firewind, Avantasia, Sonic Haven), Simone Mularoni (DGM), Massimiliano Pagliuso (November), Andrea Angelini (Stormlord) und Francesco Mattei (Noveria) bereichert.
«Borderline» EP Tracklisting:
1. Borderline
2. The Metal Monster (Acoustic Version) ft. Michele Guaitoli
3. Mistress Of Disaster '22
4. Leather Rebel (Live)