THE THREE TREMORS mit den Sängern Tim "Ripper" Owens (Judas Priest/KK's Priest), Harry "The Tyrant" Conklin (Jag Panzer/Satans Host) und Sean "The Hell Destroyer" Peck (Cage/Death Dealer/Warrior/Denner Shermann) , haben ihre zweite Single «Crucifier» aus dem kommenden Album «Guardian Of The Void» veröffentlicht. Bald dazu mehr in unseren Musik-Reviews:

Owens sagte: "Dies ist einer meiner Lieblingstracks auf der Platte", während Peck hinzufügte: "Als die Band diesen Song schrieb, wusste ich, dass wir einen besonderen Track in der Hand hatten. Es hat eine super eindringliche Atmosphäre und ich liebe den Refrain, wie er trifft. Ich bin mir sicher, dass meine Metalhead-Kollegen es genauso mögen werden wie ich." Harry Conklin mischte sich ein und sagte: "Ich habe darauf bestanden, dass wir das Live-Set hinzufügen. Ich kann es kaum erwarten, das mit der Band zu singen."

Dieses Video fängt die Essenz des Songs ein, der die Geschichte eines auf der Erde verbannten Racheengels erzählt! Hier nun der Clip: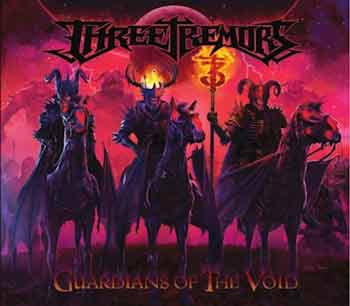 Das Album wird am Freitag, den 5. November 2021 weltweit in den Verkauf gehen, und wird nicht über die Streaming-Dienste verfügbar sein.

Steel Cartel Records veröffentlicht die Songs, die auf Video-Streaming-Plattformen gehen, und verlässt sich darauf, dass die Hardcore-Fans Heavy Metal und die Band unterstützen, indem sie eine Kopie des physischen Produkts kaufen.

Die Vinyl-Optionen umfassen einzigartige Produkte wie eine Cover-Art-Version in limitierter Auflage und eine neue Cover-Version ohne Logos und Titel. Eine unglaubliche Auswahl an vorbestellbaren Paketkonfigurationen für das GUARDIANS OF THE VOID-Album ist in begrenzter Menge unter https://www.thethreetremors.com/site/store.html erhältlich.