Um diese Neuigkeit zu feiern, präsentiert die Band daraus ihr erstes Werk «The Opposer» mit einem faszinierenden Musik-Video, das hier zu sehen ist:
Unfelled kommentieren die Veröffentlichung so: "Vielleicht ist «The Opposer» der Archetyp für den Fokus des Albums und vereint musikalisch wie textlich Wut sowie Tapferkeit, wodurch man durch den Tod ungefesselt bleiben kann."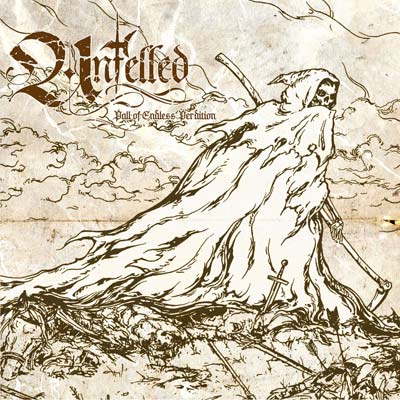 Trackliste «Pall Of Endless Perdition»:
1. An Epoch In Bloodshed (5:50)
2. The Opposer (4:39)
3. Wreathed Wings (4:08)
4. Veil Of Perdition (6:13)
5. Transcendent Legacy (4:33)
6. Evanescent (3:13)
7. A Diadem Embattled (7:31)
Total – (36:07)
Unfelled wurde(n) 2016 als Projekt von D. (Woods Of Desolation, Remete) gegründet und trat(en) Ende 2017 mit dem Solo-Demo «Beneath Distant Skies» erstmals in Erscheinung. Im Jahr 2020 wurde das Line-up um die Veteranen Mitch (Austere, Dearthe) und Vlad (Drudkh, Windswept) an den Vocals, beziehungsweise am Schlagzeug erweitert, um die Vision der Band zu vervollständigen.